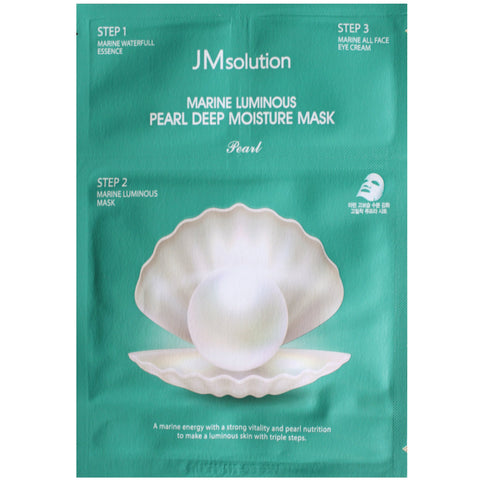 JM SOLUTION 3-STEP MARINE LUMINOUS PEARL DEEP MOISTURE MASK
Size:  Essence 1.15ml / Mask 27ml / Cream 1.5ml
What it is:
Multi-step facial mask with marine collagen and pearl extract to help your skin glow! 
How to use:
After thoroughly cleansing your skin and using your toner, apply Step 1, which is the marine waterfull essence to hydrate your skin with hyaluronic acid. 
Step 2 is the sheet mask containing marine collagen and pearl extract (10-20 mins). 
Step 3 is the facial cream to complete your mini home facial!
*Don't waste remaining essence inside the package!  Squeeze out the left over and apply on your neck and body!*  
Dates: This product indicates the expiration (까지) date.  Use immediately upon opening.  Please note that this product for one time use only. 
and the fine prints...
- If you have any adverse reactions when using this product, stop using the product immediately
- If it contacts with eyes, rinse with running water immediately
- Do not use on spots with injury, eczema, or dermatitis
- Keep product away from direct sunlight and from extreme temperatures
- Keep product away from reach of infants and children
- For external use only
---
We Also Recommend