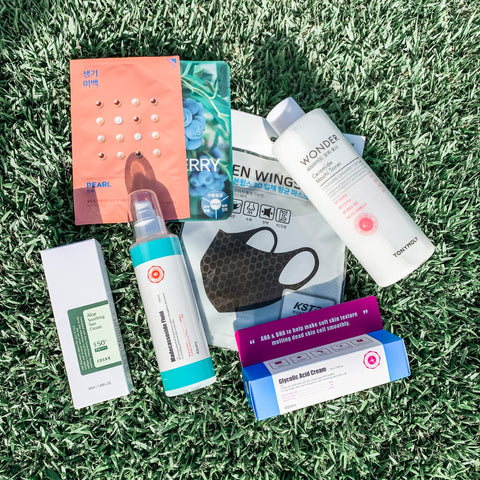 PinkSeoul Box
Use Code PINK10 for 10% off your first box!
Your first box will be a welcome box filled with customized skincare basics to get you started on your skincare journey!  Your first box will ship within 5 business days and subsequent boxes will ship by the 25th of every other month.
You will receive a customized box with at least 4 full-sized K-beauty products, 2 mask products and an accessory item - delivered every 2 months (Valued at $80+)

Please select your skin type, skin color and area of focus to allow for our customization

We alternate the type of products we include in our box so that you don't run out of products to use in your daily skincare routine
You will be charged for your first box today. 
Please check out each subscription box order separately from other orders.

Subsequent boxes will ship by 25th of every other month (or the first business day if it falls on a weekend or holiday).  Your subscription will automatically renew and you will be automatically billed every 2 months, 7 to 10 days prior to your box shipment date. 
Prices include free shipping to anywhere in the US - including Hawaii, Guam, Alaska, Puerto Rico, or the U.S. Virgin Islands.  Currently shipping to Australia, Canada, France, Germany, India, Ireland, Italy, Japan, Mexico, New Zealand, Netherlands, Norway, Panama, Poland, Portugal, Singapore, Spain, Sweden, Switzerland and United Kingdom - Canada $13.95, Mexico $16.95 and everywhere else $20.95 - USPS First Class Package International Service.
---
We Also Recommend