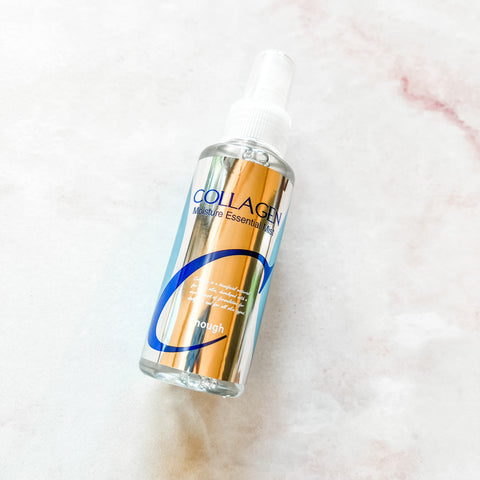 ENOUGH COLLAGEN MOISTURE ESSENTIAL MIST
Size:  100ml


What it is:
This hydrating mist is perfect during the drier weather.  Contains collagen to provide skin firming benefits.

How to use:

Spray on face as needed throughout the day. Can be used before or after makeup application.  

Dates: 
Product with (제조) indicates manufactured date and (까지) indicates expiration date.  
I
ngredients:
Water, ethanol, glycerin, polysorbate 80, sodium hyaluronate, methylparaben, allantoin, sodium citrate, imidazolidinyl urea, fragrance, benzophenone-9, disodium edta, hydrolyzed collagen

and the fine prints...
- If you have any adverse reactions when using this product, stop using the product immediately
- If it contacts with eyes, rinse with running water immediately
- Do not use on spots with injury, eczema, or dermatitis
- Keep product away from direct sunlight and from extreme temperatures
- Keep product away from reach of infants and children
- For external use only
---
We Also Recommend