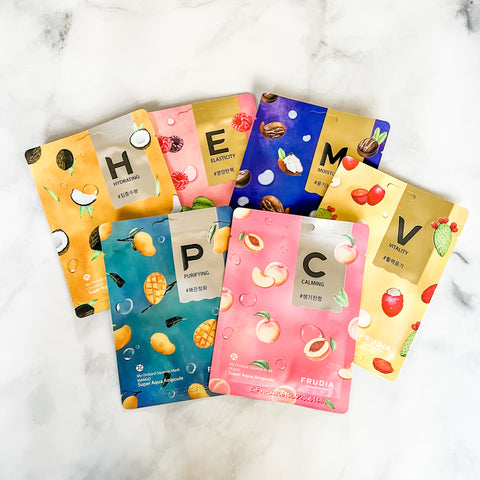 FRUDIA MY ORCHARD SQUEEZE MASKS (VARIOUS FLAVOR)
Size: 20ML | 0.67oz / sheet
What it is:
Fruit extract infused via cold pressed juice liposome tech. Choose a flavor based on your skin type and areas of concern.  See below for more information for each fruit extract:
Peach - Calming

Mango - Purifying
Coconut - Hydrating
Cactus - Vitality
Shea Butter - Moisturizing
Raspberry - Elasticity
How to use:
1. Use right after cleansing and applying toner
2. Remove from packaging  
3. Carefully peel the mask open and apply on face by adjusting your eyes within the eye opening
4. Relax with the mask on for 10-20 minutes
5. Once the mask has been removed, gently pat for absorption
6. Continue with your skincare routine without washing off 
*Don't waste remaining essence inside the package!  Squeeze out the left over and apply on your neck and body!*  
Dates: This product indicates the expiration (까지) date.  Use immediately upon opening.  Please note that this product for one time use only. 
and the fine prints...
- If you have any adverse reactions when using this product, stop using the product immediately
- If it contacts with eyes, rinse with running water immediately
- Do not use on spots with injury, eczema, or dermatitis
- Keep product away from direct sunlight and from extreme temperatures
- Keep product away from reach of infants and children
- For external use only
---
We Also Recommend